Remote Learning
This information is intended to provide clarity and transparency to pupils and parents or carers about what to expect from remote education at Newfield School during a full school closure.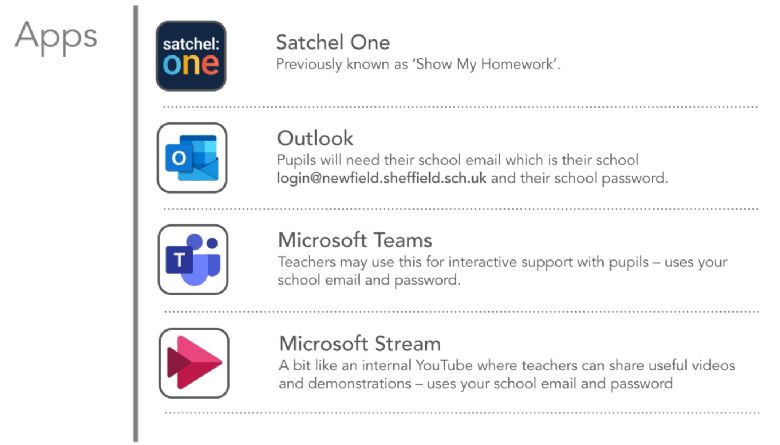 Online Safety
As your child will be spending extra time on their computer or laptop, online safety is even more important than usual. The key things to do are:
Talk to your child about what they are doing online and who they are talking to
Check your privacy settings and parental controls
Talk to them about keeping themselves safe online
There is lots of information on the Internet about online safety. Here are some links with some more help and tips. NSPCC and Safer Internet.
FAQs
Please find commonly asked questions and answers below.
How will my child access any online remote learning you are providing?
Pupils will need to log into Show My Homework everyday before 8.55am which is when period 1 begins. They should check their school timetable to see what lessons they have that day and use the following timings.
| | |
| --- | --- |
| Period 1 | 08.55 – 09.55 |
| Period 2 | 09.55 – 10.55 |
| Break | 10.55 – 11.10 |
| Period 3 | 11.10 – 12.10 |
| Lunch | 12.10 – 12.45 |
| Period 4 | 12.45 – 13.45 |
| Period 5 | 13.45 – 14.45 |
These timings are important because this is when teaching staff are available to support pupils.
Once pupils have checked their timetable they should click on the calendar in Show My Homework – this will allow them to filter by subject.
Pupils may need their school email and password to access Microsoft Teams which is part of Office 365. Some teachers are delivering live lessons using the timings above through Microsoft Teams. Show My Homework instructions will indicate whether Teams will be used.
If my child does not have digital or online access at home, how will you support them to access remote education?
We recognise that some pupils may not have suitable online access at home. We take the following approaches to support those pupils to access remote education:
Parents and carers can contact enquiries@newfield.sheffield.sch.uk if they need to borrow a laptop or for help with Internet connection.
Paper copies of work will be sent to those who cannot access Show My Homework whilst waiting for support with technology.
The SEND department will ensure that pupils receive regular contact to support them with their learning. This may include pupils being sent paper resources.
Will my child be taught broadly the same curriculum as if they were in school?
We teach the same curriculum remotely as we do in school wherever possible and appropriate. Therefore, it is expected your child follows their school timetable for each day of lessons with the timings outlined above.
However, we have needed to make some adaptations in some subjects. Practical subjects have had to modify their curriculums slightly due to pupils being unable to access specific equipment. We will send equipment home where we can.
How long can I expect work set by the school to take my child each day?
We expect that remote education (this includes remote teaching, either live or through interactive PowerPoints and students completing work independently) to take broadly 5 hours each day.
Teachers have planned each lesson to take between 45 and 60mins, this incudes independent work. With recorded lessons it will sometimes mean that some pupils with finish quicker than others. If this is the case the pupil should contact their teacher on Show My Homework to ask for extension work. If a pupil is still working after an hour they should stop and move onto their next subject. They may come back to that lesson later in the day.
How will my child be taught remotely?
We use a combination of the following approaches to teach pupils remotely:
Recorded interactive PowerPoint
Recorded Videos
Live teaching via Microsoft Teams
Activities to complete using online platforms
Oak National Academy lessons
Booklet work to complete
How will you check if my child is engaging with their work and how will I be informed if there are concerns?
The first method is to check pupils are logged onto Show My Homework each morning to start their lessons. Parents will get a text each day where this hasn't happened.
We have then asked teachers to monitor the engagement of students through the below methods:
Attendance of students at live lessons on Microsoft Teams
Using monitoring tools on Show My Homework and Microsoft Teams
Setting quizzes which shows teachers your child's performance
Checking if students are submitting work on Microsoft Teams.
Teachers will be messaging pupils regularly on Show My homework if they are not engaging. This can be monitored on the parent app.
We will be contacting every parent and pupil weekly and using the information above to support with engagement in a child's learning and check on wellbeing.
How will you assess my child's work and progress?
Feedback can take many forms and may not always mean extensive written comments for individual children as this has always been our policy in school. Our approach to feedback back on pupil work is as follows:
Whole-class feedback during live lessons. This could be done through questioning or self-marked activities.
Whole-class feedback by providing example answers in a future live or recorded lesson.
Quizzes marked automatically via digital platforms
Pupils will also receive individual feedback on some work with messages of encouragement and support through either Show My Homework or Microsoft Teams.
How will you work with me to help my child who needs additional support from adults at home to access remote education?
We recognise that some pupils, for example some pupils with special educational needs and disabilities (SEND), may not be able to access remote education without support from adults at home. We acknowledge the difficulties this may place on families, and we will work with parents and carers to support those pupils.
Therefore, we will make phone contact on a regular basis (at least weekly) to check on how your child is coping whilst learning from home. All teaching assistants have been allocated pupils to work with during this period.
Any concerns picked up during a conversation will be passed on to the school SENDCO.
Guidance videos
Information relating to COVID-19 and attendance can be found here.