Day to Day
Uniform & Equipment
Uniform
As an ambassador for our school, students should be easily identified both in school and in the community as from Newfield. To provide an appropriate image, the school expects students to look smart and business-like at all times. The school uniform expectations are as follows:
Burgundy blazer with school logo
Blazers must be worn at all times on corridors
Blazers can be removed in lessons with the permission of the teacher
Blazers must be worn as students leave the classroom
Black polo shirt with school logo
Optional black knitted pullover or cardigan with school logo
This may be worn under the blazer if required for extra warmth
Black Tailored Trousers or Black Skirt
Trousers must be tailored, straight legged and full length;
Trousers should not be tight fitting or a skinny style;
Trousers should not be jeans, jeggings, leggings, chinos, leather or tracksuit bottoms.
Skirts should finish at or below the knee. Lycra or tight-fitting skirts are not permitted
Tights if worn should be plain, flesh-coloured or black
Plain Black Leather Shoes
All footwear must be plain black
All shoes must be plain black leather shoes (not trainers) with flat soles – high heeled shoes are unsuitable for our school site
Plain black leather shoes must be completely black without any other colour trim or coloured logo
This means logos, tongues and any visible sole must be plain black
Reflective markings are not allowed
Laces must be plain black
No boots, high tops, ballet pump type shoes or plimsoles, canvas, sandals or open top types shoes are allowed
These expectations are in place for the entire year, even in the winter months. In case of bad weather, students are welcome to bring a change of shoes to make the journey to and from school easier but will be expected to be in appropriate shoes during the school day.
Headscarves worn for cultural reasons should be plain black.
Headbands are allowed to be worn but must be plain with no additional adornment(s). Headbands that draw undue attention to a student are not permitted.
Only Newfield uniform items may be worn in the building. Blazers should be worn as the 'outer layer', but may be removed and put on the back of a chair (or on a peg in labs and workshops) during lessons, when permitted by the teacher. Coats should not be worn inside the school building. Lockers are available for the storage of coats and other items. Any student wearing additional non-uniform items will be required to remove them and may be required to hand them over until the end of the day when they can be collected.
PE Kit
A complete change of clothing is required for PE lessons.
Students should wear the following:
Burgundy Newfield Sweatshirt or Newfield Team Sport Hoodie
Burgundy PE Sweatshirt with school logo
Plain black sports shorts, tracksuit bottoms or sports leggings
Clean sports trainers
Sports socks
All school uniform items should be clearly labelled with the student's name.
Supplier
School uniform and PE kit can be purchased through our supplier - Pinders
There are three ways to purchase uniform items.
Online, with delivery to home or school
By an order form that can be left at school – the order will be sent to school for collection by the student
Directly at Pinders' retail outlet at Crystal Peaks, where students can try on different sizes.
Other Accessories
Fashion accessories e.g. hats, caps, scarves, ornamental hairbands, ornamental belts and other 'non-school' knitwear are not permitted.
Mobile phones must be switched off and out of sight throughout the school day and earphones should be out of sight in the building. Each individual student must accept responsibility for their own personal possessions and equipment whilst on the school site. Students should avoid bringing valuable items into school and we will not be held responsible for any item of uniform or equipment lost or stolen in school.
Compliance with uniform requirements
'Permission notes' from parents will not be accepted, as we will provide temporary loans if necessary. However, if a student chooses not to follow all parts of the uniform and personal appearance requirements, including refusal to loan uniform, the school will take action in line with the Consistent Discipline Model and Exclusion Policy. In the case of jewellery, caps, hooded tops, misuse of mobile phones, iPods etc. these will be confiscated. Confiscated items must be collected by parents from the school reception. The school reception is open at 8am and closes at 4pm daily.
Equipment
Equipment is vital in supporting a child's learning and underpins the Consistent Discipline Model. The following list below outlines the compulsory equipment a child needs;
Pencil case
Two black pens
One purple pen (this will be provided by the school)
Pencil
Rubber
Ruler
Calculator (this can be purchased through the school)
Reading book (this can be borrowed from the school library)
Each morning we will check whether a student has the right equipment. It must be emphasised that forgetting equipment has a direct impact on the learning episodes that take place within the school day. Each student has one chance to forget their pencil case within an academic year. On the second occasion and thereafter, the student will automatically serve a one-day period of Isolation. New pencil cases can be purchased from Student Services for £1.10 (not including a calculator).
Equipment checks will take place on a half-termly basis as the beginning of each half term during Tutor Time. The expectation is that all students are fully equipped every day to support the learning episodes that take place and no time is lost for learning.
School Day
Normally, the timings of the school day are as follows: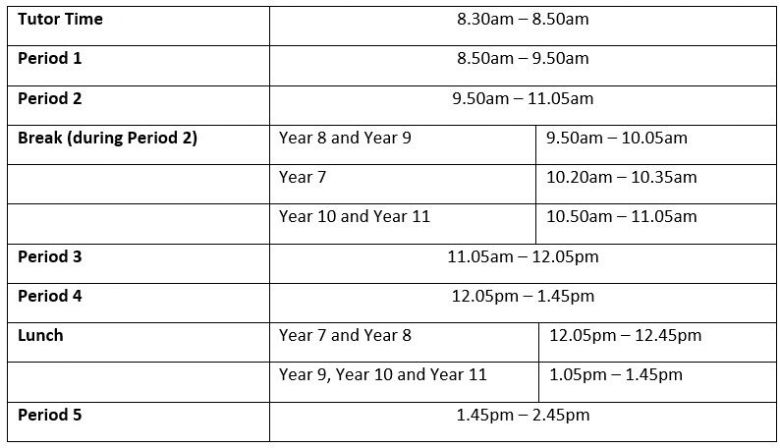 Extra Curricular
We are committed to ensuring that students have the opportunity to participate in extra curricular activities and enriching experiences. We believe that these compliment our curriculum and help with the personal development of our students, having a positive impact on their cultural capital.
We want Newfield students to be curious about the wider world, committed to becoming a strong citizen, maintain a healthy lifestyle and be considerate to those around them and the planet that we inhabit.
Our extra curricular offer supports our students in achieving this through sporting clubs, creative and cultural activities and gives our students the opportunity to explore the wider world, investigating current topics and debating issues within this.
This offer is essential if we are to support the personal development of our students. There needs to be equity in the offer ensuring that all activities and experiences are accessible by all not just a few. Our aim is that every student experiences, and grows, through our extra curricular and enrichment opportunities throughout their time at Newfield.
Please see the list of Clubs and Activities below.
Homework
Homework principles
It is an expectation that all staff set homework when it is purposeful, relevant and in the scheme of work under the direction of the curriculum leader.
We do not insist that staff mark homework but read it thoroughly. Whole class feedback then takes place. Some homework is still individually marked as determined by the subject teacher or curriculum leader. A homework club is well-attended and publicised, students who require additional support attend and are guided by teaching assistants.
What type of homework is set?
Homework has a very substantial impact on student attainment when it prepares students for their next lessons, consolidates learning that has taken place recently, retrieval practice from prior learning or exam practice.
Preparing for future learning
Reading a text in preparation for the next lesson
Learning subject specific spellings for a test in lesson
Annotating texts
Watching videos that are relevant
Consolidating learning
Revising content for a knowledge test in lesson
Practicing questions based on a previous lesson
Self-quizzing – providing students with content that they then self-learn
Retrieval practice
An exam paper
Revising content for a knowledge test in lesson
Practicing questions based on a previous lesson
Self-quizzing – providing students with content that they then self-learn
Large projects that a student will struggle to complete at home
All homework is set on Edulink.
Students have a responsibility to:
Check SMH daily to see what tasks are set
Check SMH or meet the class teacher in the event of an absence to check if any homework has been set
Hand in the homework on the specified deadline even if they have been absent when the homework was set
Hand in their own best work which has not been plagiarised
Homework will be acknowledged and checked by teachers and feedback will be given to the students.
Homework sanctions
When homework is not completed, teachers log the incident and the students receives a yellow sticker in their planner to remind them of their detention which will either take place at lunchtime or after school.
Homework Club
Homework club operates in the LRC and learning support from 2:45-3:30pm in order to support the completion of high-quality homework. This is open to all students. Heads of Year will be proactive in promoting homework club so that students at risk of not completing the homework have access to the appropriate support.